RETROFIT KIT & PEDELEC BICYCLES
QGE has three profit and loss centers, and are located one in Karachi, Lahore, and Islamabad respectively. These P/L centers are run independently by Managing Partners who also own part of the business. They maintain operating expense, manage sales and marketing, and are responsible for customer base growth, warranty, and field issues. Each P/L center reports to the head quarter in USA.
The P/L center sells retrofit kits and a PEDELEC which is a regular bicycle converted to a electric-bicycle using a retrofit kit. The retrofit kit consists of a lithium-ion battery, typically a 10 Amp-hr battery, a controller, a BMS, and a motorkit. Retrofit kit can be purchased separately or fitted with a bicycle of choice, referred as a PEDELEC.
The battery pack is the brain of the system and comes in various sizes and power. The standard size is 10 Amp-Hr, 36 volt, 250 watt Lithium or NSM battery that integrates to a MotorKit of minimum 250 watts of power.
The retrofit unit can be driven for 50 KM minimum per single charge on a flat terrain. A typical application would be 25 KM ride each way for a total round trip ride of 50 KM. The PEDELEC is designed for a maximum speed of 23 KM/hr which is the limit for a bicycle speed to be allowed to run without a number plate of be registered with DMV.
Larger and more powerful PEDELEC can be ordered as a customized design and upon customer request. The PEDELEC designs are kept simple so can be launched with ease in various countries such as Netherland, Turkey, Morroco, Egypt, Thailand, Bangla-Desh etc.
EV THREE-WHEELER RICKSHAWS RUN BY LITHIUM ION BATTERY PACK.
QGE plans to launch its first all-electric rickshaw by the end of the first quarter of 2023. Potential customers are encouraged to place early orders with 50% deposit.
The rickshaw will have 100 KM daily range with a full charge. The charging time will be less than 6 hours or overnight charging which will provide a rickshaw ready for use the next day of work, The rickshaw will carry a maximum of three passengers and a driver. The retrofit unit that carries the transmission, power train, controller, and the handle bar navigation and controls will be a standard feature of the rickshaw design.
QGE expects to be a leader in the application of this technology for the rickshaw application in Pakistan, Myanmar, Bangla-Desh, Thailand and several other countries in Eastern Europe and North Africa.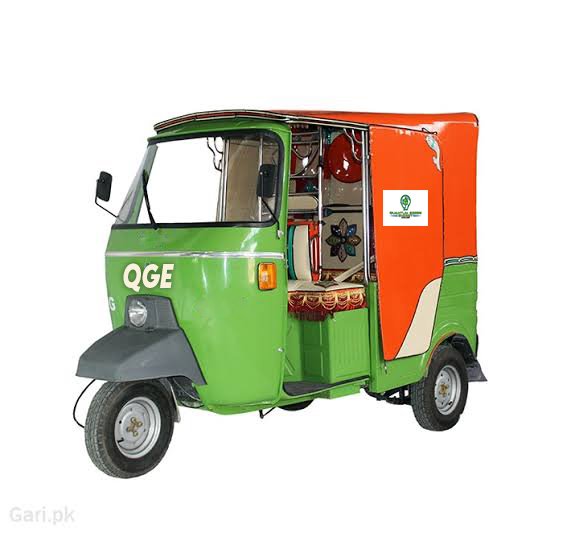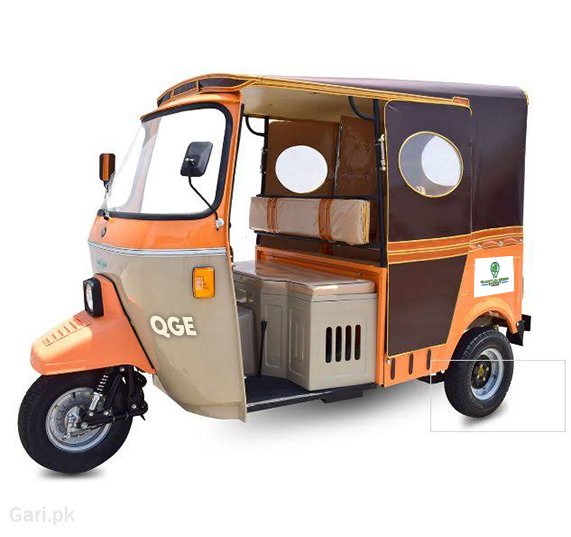 BATTERY CHARGER USING A SOLAR PANEL
The lithium-ion battery pack can be charged using electricity or if power from the grid is not available can be charged using a portable solar panel. The solar panel size is designed so the 10 Amp-Hr battery pack could be charged in less than 4 hours.
The unit will consist of a lithium ion battery and a solar panel. The battery charger using a solar panel can be purchased separately as a complete unit, or without a battery. If purchased without a battery than the solar panel will be used to charge the
already purchased battery with the retrofit kit or the PEDELEC.
Larger battery pack than 10 Amp-Hr. will take longer time to fully charge.
Solar Panels for Residential applications.
A solar panel unit that will consists of a 5KW or a 7KW for application using an off-grid solar panel or a on-grid solar panel unit.
These solar panel will be to manage and supply power to a small residential application such as 4~6 60W lights, a fan, a refrigerator or a ½ tonnage air-conditioning unit.
The Solar Panels for Residential Applications are planned to launch end of 2023 or the first quarter of 2024 in Pakistan and in third world countries including Bangla-Desh, Mynamar